In need of a new backpack for traveling or a practical book bag for school? This list has several sustainable backpack options for whatever carrying you need to do. From stylish to functional, you can feel confident knowing your new backpack was made ethically and with eco-minded materials. Some of them can be personalized, some can charge your phone, but all of them are a good sustainable fashion choice!
Brand | Lo & Sons
Material | Recycled Polyester
Price | $248
Perfect for work, travel, or everyday use, this minimalist laptop backpack is made from a 600D (read: durable) high-density water-resistant polyester made from recycled plastic bottles. In addition to the 15" laptop compartment, it also has a suitcase handle sleeve and a removable organizational insert.
---
Brand | ABLE
Material | Leather
Price | $238
A minimalistic design with maximum storage. Not only is this backpack functional, but it's stylish making it perfect for your everyday looks. The shoulders are padded, there are pockets on each side, and you an inside pocket for a 15" laptop. The Alem is handcrafted in Mexico.
---
Brand | MZ Fair Trade
Material | Leather, Natural Dyes
Price | $119
If you are looking for a smaller backpack, this one just might be the perfect fit! The mini size will still fit many of your daily essentials, while letting you go hands-free. The straps are adjustable, and the diamond design is naturally dyed.
---
Brand | Allegorie
Material | Apple Leather
Price | $325
Yes, it's vegan and made from apple peels! You can read more about this amazing backpack here. It's my go-to! The Gala comes in both pink & black.
use code 2021SC for 10% off
---
Brand | Paravel
Material | Recycled Plastic Bottles
Price | $65
This backpack is great for travel because you can fold it up when not in use. The Fold-Up Backpack fold flat for easy storage and easily expands when ready for use. It is big enough to hold all your essentials and up to a 15-inch laptop. You can even personalize them!
---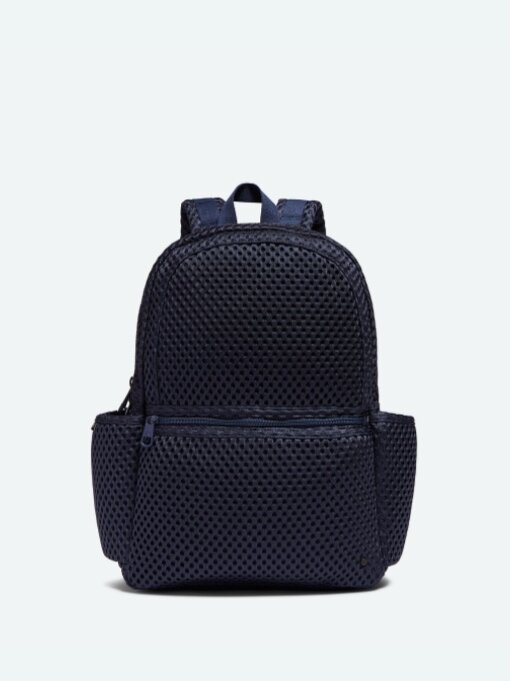 Brand | STATE
Material | Recycled Polyester
Price | $165
Another backpack made of recycled materials, the Kane has a cool mesh outside and a luggage slip sleeve for easy travel. For every bag sold, American families and children in need are supported through various initiatives.
---
Brand | Solgaard
Material | Upcycled Ocean Plastic
Price | $195
A solar powered backpack to make sure you are always charged up! How cool is that?! It's also made with Solgaard's signature fabric Shore-Tex™ which helps pull out 5 lbs of ocean plastic with each Lifepack Backpack.
---
Brand | Patagonia
Material | Recycled Polyester/Nylon
Price | $89
Can't make a list of backpacks without including Patagonia! This particular Refugio is custom tailored for a woman's torso. It also has Fluorinated DWR which stands for durable water repellant, so your bag doesn't get soaked in the rain.
you may also be interested in:
This post is sponsored in part by Lo & Sons and contains affiliate links. As always, views are genuine and brands are truly loved. Thanks for supporting the brands who are working to make this industry a fairer and cleaner place!
#Content-Attribution#
Content Creator: Natalie Kay
Date: