How to Recycle Clothing (And 8 Creative Ways to Upcycle Fabric)
No matter how much care we take curating our wardrobes, there inevitably comes a time in the lifecycle of any piece of clothing when it no longer fits us, we simply don't want it anymore, or it has been so worn and well-loved over the years that it has started to fall apart.
The question for any conscious consumer then becomes: what happens to our old clothes when we recycle them, and what are the most sustainable options for our old and unwanted clothes? 
Our Clothing Waste Problem
In her book A Life Less Throwaway: The Lost Art of Buying For Life, Tara Button shares that the average woman in 1930 owned nine outfits, whereas we now buy an average of 67 items of clothing every year. Research shows that the average modern American discards 81 pounds of clothing a year, and the Environmental Protection Agency reported that US landfills received 11.3 million tons of unwanted textiles (predominantly unwanted clothing) in 2018. 
Yet this is just the tip of the iceberg when it comes to clothing waste: the large majority of our unwanted clothing is shipped abroad either to used clothing markets or overflowing landfill sites abroad—out of sight, out of mind, for us at least. If we had to keep our own clothing waste, our domestic landfills would be well past crisis point by now.
Fast fashion prioritizes speed and low prices, which means that the quality of our clothing has deteriorated, as well as increasing the amount of clothing that is produced and consumed. As a result, clothing tends to break more easily, and repairing clothing is often perceived to be more effort or expensive than simply buying new; inevitably, more clothing is also thrown away. Synthetic fibers, which release toxic chemicals into the water system when we wash them, as well as into the environment when they're discarded, can be difficult to recycle, even if we try to avoid sending them directly to landfill.
It's not all bad news, though: in recent years, we've also seen a resurgence in the popularity of second-hand clothing, mending clothing, and the use of recycled (and recyclable) fabrics. Many ethical fashion brands have been evolving to think about not just the ethics of where their clothing comes from, but also where it will end up, striving to close the loop and embrace a circular design model.
It's important for every conscious consumer to understand what happens to our recycled clothes so that we can make the most sustainable choice with each item of clothing we're ready to discard. Before we talk about recycling clothing, it's helpful to think about what happens to donated clothes, as a large proportion of donated clothes end up heading to recycling plants, too. 
What Happens to Donated Clothes? 
The first step for any charity or organization accepting donations is to sort the clothing into wearable or unwearable categories. The wearable donations are classified as "first grade", and will generally go on to be sold in second-hand clothing shops or even in second-hand clothing markets abroad. 
Unfortunately, there isn't a whole lot of transparency in the industry, but estimates of how much donated clothing falls in the first grade (i.e. resellable) category range from around 10-50 percent. Adam Baruchowitz, founder of Wearable Collections, a New York-based non-profit that collects used clothing in the city, says that "For any bag you collect, 50 percent is going to be wearable and 50 percent is going to be used for other purposes." Meanwhile, Lucy Siegle reported that around 10 percent of the approximately 300,000 tons of donated garments in the UK each year was re-sold in domestic shops in aid of charity. 
Other clothing will be exported and sold in second hand-clothing markets; in fact, research shows that a third of all globally donated clothes are re-sold in Sub-Saharan Africa. While there's certainly a high demand for Western clothing, the huge influx of used clothing from countries like the USA and the UK is a mixed blessing for locals: Dr. Andrew Brooks, author of Clothing Poverty, shares that between 1975 and 2000, Ghana's textile and clothing employment fell by 80 percent, while Nigeria's 200,000-person textile industry has been greatly reduced, too. Kenya's local textiles industry has been so disabled by the influx of clothing from overseas that their government fought a proposal to ban imported textiles, saying that they wouldn't be able to clothe their population without second-hand clothing. 
Where clothing lacks any resale value, this lower grade but still usable fabric will be sent to recycling facilities to be turned into new fibers or used for car seat filling and wiping rags for industrial machines. Some will also inevitably end up in landfills, either domestic or (more likely) abroad. 
Ultimately, when we donate our clothes, we hope that our closest purge is also positively impacting someone else's life. However, we need to be careful that any clothing we donate is of good quality and in good repair because charities need quality, not quantity. People sorting through donated clothing report regularly finding bags of dirty, unwashed clothing—even dirty underwear, which can't be salvaged easily and so inevitably go straight to landfill. Furthermore, one bag of clothes with mildew can contaminate any other clothing they come into contact with; by donating dirty clothing, not only are you just creating extra unprofitable work for a charity, you're also potentially making other perfectly good donated clothing unusable, too. 
The first and most basic principle of donating used clothing is ensuring everything is clean, in good repair, and generally of  sellable quality. If you have items that meet this description, there are plenty of local options where you can donate your good quality clothing, from community clothing banks to organizations like Goodwill. 
Meanwhile, there are several different options for any clothing that's no longer of a sellable quality; first, we'll explore the pros and cons of recycling and look into how to recycle sustainably
What Happens to Recycled Clothes? 
Clothing that is sent to a recycling facility will be sorted by hand for the type of textiles, and then will be shredded, ground, and treated, going through a different process depending on what new life it is destined to have. Some might be turned into recycled fabric and make it back into your wardrobe in the form of a brand new garment. Other lower grade fabric will be used in less glamorous, though still useful, ways, such as insulation, padding, or industrial textiles.
Given that it takes synthetic materials hundreds of years to biodegrade (a minimum of 200 years for a polyester dress), it's clearly important to keep fabric from heading to landfill. And, another benefit of the recycling industry is that it provides jobs that require skill and can't be replaced easily by machines, which struggle to identify fabric without the ability to feel it. 
However, recycling is not a straightforward win because many synthetic fabrics are difficult to recycle in an environmentally friendly way. Serge Lazarev, founder of Green Tree Textile Recycling in New York City, says that materials like Spandex and Lycra are problematic: "When elastic and rubber mixed in with the textile material, we don't have a way to separate it."
If you decide to send your clothing to a local recycling plant rather than reusing it in your own home, there are a couple of best practices to bear in mind. Firstly, check out the info provided by your local municipality to find out what options they offer, and make sure you pay attention to the information they share about what to send and how to prepare and sort it. 
Avoid buying new synthetic fabrics wherever possible, but if you do have a synthetic item to recycle, try to find a specific recycling program for synthetic fabrics to make sure they have the expertise to do it properly; one way to do this is to get in touch with circular fashion brands who use recycled fabric and ask them for advice about which companies they use to source their upcycled fabrics so that you can donate your clothing directly. Supporting brands that use recycled and sustainable materials is a great way to vote with your wallet and support the recycled fabric industry; Patagonia, Thought, and many other ethical fashion brands use things like recycled polyester and plastic bottles in their fabrics.
Some brands run specific recycling programs themselves; Madewell accepts old jeans to use as insulation in houses built in collaboration with Habitat for Humanity (and they'll give you a discount on your next pair of Madewell jeans in exchange).  
What Can We Do Instead of Recycling and Donating Old Clothes?
So, if we should only donate high-quality clothing, and if recycling should only be done with care or as a last resort, what are our other options for old or unwanted clothes?
Ania Grzeszek is a textile artist and a big advocate of visible mending. As she explains, "recycling or donating [clothing] is simply shifting the responsibility to someone else, but is not the most sustainable solution. The easiest way to reduce the ecological impact of our clothing is to simply wear it longer (and also wash it less!). By extending the life of the garment, you literally help save the planet and opt-out from the fast-fashion cycle." Ania encourages people to embrace their creativity and to normalize mending clothing. "This is one of the biggest shifts I noticed in the past years," she says, "from patches and mends being frowned upon, to fixed clothes being now a way to express your views, and also personal style… You don't have to be good at it from the start, just experiment with it and see where your creativity takes you."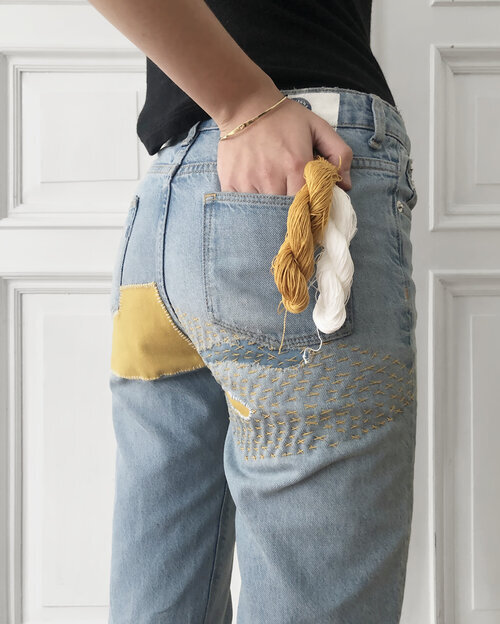 Fashion Revolution co-founder Orsola de Castro also celebrates the rise of the mending trend, but her new book Loved Clothes Last also explores the need for a diverse range of options for all budgets when it comes to ethical fashion. She points out that mending clothing and wearing hand-me-downs or second-hand clothing used to be a sign of low income and low social status, and that as this becomes more socially acceptable, even celebrated, we must avoid making fast fashion simply the latest way we stigmatize the less affluent. 
The fact that more people are embracing used clothing, and that the stigma of keeping and mending and passing down clothes is fading, is all great news—as long as it doesn't mean that the re-sale price of secondhand clothing rises, pricing out people who used to rely on used clothing stores to dress themselves and their families.
Use the guidance below to help you decide on the best way to recycle or upcycle your clothing; you and your wardrobe are unique, and so the answer will look a little different for everyone.  
How to Recycle or Upcycle Clothing That's Still In Good Condition
Clothing swaps: Host a clothes swapping party with your friends (covid-permitting, of course), or share photos of items you think might suit a friend or family member, telling them you thought of them and wondered if they'd like the item you're ready to part with. Many brands like tonlé host clothes swaps on their own platforms now, too.

Re-selling: Why not earn some money from the clothing and accessories you no longer want, and ensure they go directly to a good home rather than to landfill? There are so many different re-selling apps to choose from; you're spoilt for choice.

Investing in clothes from circular fashion brands: Supporting brands like that use recycled materials, or better yet, use recycled materials and also give their customers the ability to send their clothing directly back to be recycled by the company, is a powerful way to ensure the future is circular and waste-free.

Donating good quality items: Donating good quality clothing to clothing banks or charitable organizations is a good option too, as long as you make sure you're not just using them as dumping grounds. A good rule of thumb is to do a gut check and if you don't think you'd be able to sell a piece on a re-selling app, it might not be re-sellable for a charity, either.
How to Recycle or Upcycle Clothing That's Damaged or Worn
Teach yourself some basic mending skills: Whether you go for invisible or visible mending, there's a lot to be gained from taking the time to sew on buttons, darn holes, and patch fraying places in your clothing. You can keep things simple or get creative and experimental—it's totally up to you and what works for your style.  

Outsource your mending: Not handy with a needle and thread, or short on time? There are plenty of professionals out there who can help you if you don't have the time or inclination to learn yourself. The repair economy is a growing sector, and it's great to encourage this if you can.

Upcycle your old clothes at home: If you're a crafty type (or know someone who is), there are plenty of fun ways you can re-use old fabric in your home. We've shared a few ideas to get you started below, but really the options are limitless.

Recycle responsibly: If all else fails, recycling should be our last resort, instead of just throwing fabric in the trash. Just make sure you've taken the time to look into the best local recycling options for the type of fabric you'd like to recycle. 
8 Inspiring Upcycled Fabric Projects For Your Home
Once you're ready to embrace a little in-house recycling, it's a great idea to invest in your very own rag basket where you can keep any discarded clothing that's beyond repair and can now be used for household cleaning and craft projects. It can help to have a sewing machine, but you can do a lot with a simple needle and thread.
Patching: Sometimes, using a contrasting fabric to patch a piece of fraying clothing can be a fun style statement. If your style is more minimalist, you can always try this on kids' clothing first, as their clothing is usually more colorful, and it might feel like the stakes are a little lower, too.

Alternative window dressings or framed art: I was really inspired by the creativity of my neighbor when I saw that she'd created lace stained-glass-style window panels with old pieces of lace she'd saved over the years; they make a beautiful alternative to privacy blinds or lace curtains. Even if you don't have the skills or inclination to try something like this yourself, you could consider commissioning something similar from a local artist.
Quilts: Quilting may be a rather complex art, but it's also a lovely way to reuse old clothes with sentimental value. If you're a beginner to quilt-making, keep things simple with simple squares of fabric, and go from there.
Rag rugs: Rag rugs, also called Toothbrush or Amish style rugs, are a classic way to recycle old clothes at home. It may look intimidating at first, but with the help of this handy video tutorial from Barri-Jayne Makes, you'll soon be hooked.
1.Cushion covers: Atia Azmi of The Bright Blooms makes a lot of her own clothing from scratch, but points out that you don't have to be as ambitious as she is to create something new for your home from old or unwanted clothes. Save sweaters you accidentally shrank in the wash (we all do it) and turn them into cushion covers, cardigans, or mittens.
2. Wrapped clothes hangers: Take inspiration from Kristen, founder of Upcycle My Stuff, and give your ugly plastic clothes hangers a pretty makeover by wrapping strips of fabric tightly around them, securing them with glue—no sewing needed.
3. Hair scrunchies: While scrunchies are back in style, why not use some old fabric scraps to make yourself or your kids a brand new hair accessory? All you need is a small amount of attractive fabric and some elastic for one of the simplest sewing projects out there.
4. Bunting: Fabric bunting is one of the easiest craft projects to try with old fabric, and if you like the results, you can keep it after every celebration and re-use it again and again. This tassel bunting from Upcycle My Stuff is no-sew, so you won't even have to get a needle and thread out.
As crafter Barrina Mills of Barri-Jayne Makes says, "Using your old textiles to create something brand new is such a beautiful thing to do. You can start small and go as big as you like. You might even amaze yourself with what you can create. Then when someone admires your work, you can say with pride, 'I made that!'." 
Whether you're a crafty type or more into swapping, re-selling, or recycling with intention, there's a sustainable option for your old and unwanted clothing out there for you. Let's strive for a future in which we consume less new clothing and virgin textiles, make what we already have in our wardrobes last longer, and ultimately make sure any unwanted clothing doesn't end up in a landfill. 
---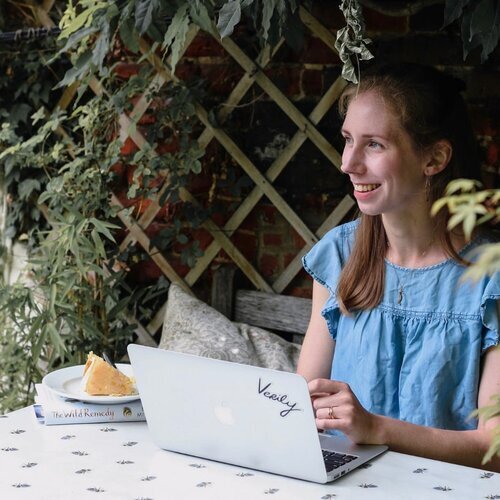 About the Author
Sophie Caldecott is a freelance writer living in a cottage on the edge of the moor in the South-West of England. She writes about grief, empathy, ethical fashion, and the things that connect us and make us human. You'll most likely find her cozied up by the fire with a mug of hot chocolate and a good book.
---
#Content-Attribution#
Content Creator: Sophie Caldecott
Date: