A Guide to Sustainable Maternity Clothing from A Mama Who Loves Ethical Fashion
Are you pregnant and starting to worry about fitting into your current wardrobe? I had that feeling in the beginning, too, but I decided to wait to purchase anything. I don't like to buy clothing I feel I will only wear for a short amount of time. I felt there had to be a way to get use out of what I already had and work around my growing belly. I'm happy to say I bought absolutely ZERO maternity clothes for my entire pregnancy. I want to follow this up with saying not all of us can do this, and I don't want anyone feeling pressure to do so, either. I happened to not have to go to a job where I had a certain dress code, which I think helped me out a lot! I was able to wear whatever I wanted, whenever I wanted. Also, I'm 5'2'', gained about 20ish pounds when pregnant and carried Elliott a few weeks short of 40. I never felt uncomfortable or too big for what I already had so I was able to work with it. We all have different bodies and comforts, so I will share with you my tips you could hopefully use for most of your pregnancy, if not all, and then list some options of where to purchase maternity clothing - both secondhand and new!
Tips For Your Current Closet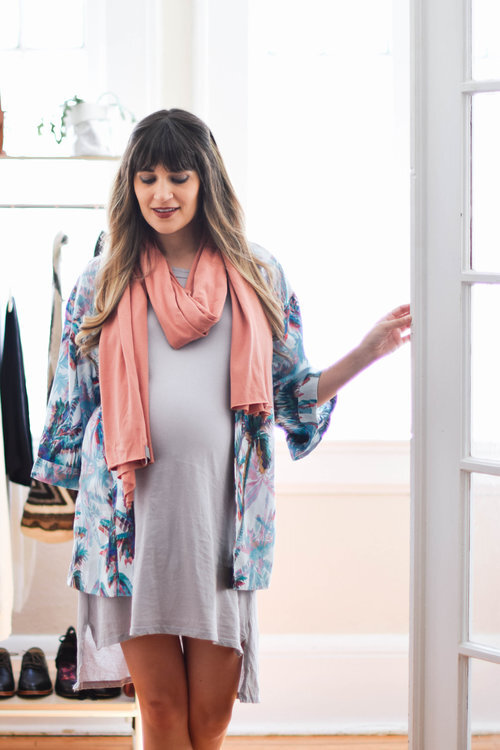 Leggings: These were my go-tos almost every day. I would go to Pure Barre in the mornings, and stay in my leggings the rest of the day. No matter how big I got, the waistbands would always stay below the tummy.

Flow-y Garments: I had a lot of tunics and oversized tees, which had a lot of room in them. Many of my sundresses had lots of room, as well!

Stretch, Jersey Fabrics: For when I wanted to dress up, I would turn to jersey fabrics because they would easily stretch - even during the end of the 3rd trimester!
I really thought about buying a few things only in the very beginning, but I'm glad I never did because I learned to work with a small wardrobe.
Outfit repeating is the name of the game when you're pregnant - well, it should be in general, but of course, it's easier to do when you don't fit into as much as you used to!
I think you'd be surprised to see how much you can still fit into - so my advice, spend some time in your closet first, and wait until you really need to purchase a maternity piece.
---
Secondhand Maternity Clothing
My first suggestion here would be to ask your mama friends! Chances are, they still have some maternity pieces in their closet collecting dust. I was offered quite a bit when people found out I was pregnant, so don't feel shy asking. Most people love to get rid of things they don't need!  (I did decline the offers since I felt I had too many clothes, but next time, I may just take them up on it so I don't have to do as much laundry) 
Check out your local thrift and secondhand stores to start with, but if you have no luck, there are two great online shops with maternity sections: ThredUp & SwapSociety
---
Ethically-Made New Maternity Clothing
Okay, so you don't have enough in your current closet, and secondhand just isn't cutting it - or you want to spoil yourself... I get it - pregnancy is exciting and you should be able to treat yourself! Luckily, there are a few brands who are creating sustainable maternity clothing, and there are a lot of cute pieces.
This brand is quickly becoming one of my favorites. Not only do they offer plus size options (00-24), but their jeans are all priced under $100. They even have super cute overalls for pregnancy!
This is one of my favorite organic cotton brands, and their prices are more affordable than most. Everything they make is very comfortable and washes well.
code: SustainablyChic20 for 20% off
Petit from Poa offers a unique concept: a Little Black Dress Kit for pregnant and nursing moms, so that you can still look and feel stylish throughout your pregnancy and after giving birth. Everything is made in the USA out of sustainable TENCEL and ships completely plastic free!
Use code SC50 for $50 OFF
This brand has a lot of amazing basics, and, if you are looking for plus sizes, they go up to size 3x. Storq also has clothing for nursing, which definitely comes in handy if you plan to do so.
This is a UK childrenswear brand that has a small section for maternity. If you love color and bold prints, this is one to check out! They use GOTS certified organic cotton for their designs.
Another size inclusive sustainable brand, Girlfriend has a collection of maternity leggings, bike shorts and nursing bras. Everything is made from recycled plastic bottles, and they go up to size 6XL.
This has to be one of the most beautiful slow fashion brands. I just love the style, and I was very excited to see they have a whole section dedicated to 9 months in their clothing!
This brand's clothing is thoughtfully designed to give you the functionality and style that motherhood deserves. Almost everything is OEKO-TEX® certified, and many of their pieces are made from eco-conscious fabrics like TENCEL and recycled polyester.
---
I'm also going to link up a few more posts you may want to check out for pieces that look like you could have room to grow - flow-y tops, jersey knits, etc.
---
Whatever route you go with your maternity wardrobe, I wish you a safe and healthy pregnancy - especially for all the new mamas having to do this during a pandemic. It certainly isn't easy right now, but your wardrobe should not have to add to the stress. I hope you enjoy these tips, and please feel free to leave yours in the comments below.
Lots of love from one mama to another,
Natalie
Give it a pin to share with your other mama friends!
you may also be interested in:
This post is sponsored in part by Petit from POA and contains affiliate links. As always, views are genuine and brands are truly loved. Thanks for supporting the brands who are working to make this industry a fairer and cleaner place!
#Content-Attribution#
Content Creator: Natalie Kay
Date: