What is MIRUM? The Plastic-Free Leather Alternative and Where to Get It
what is Mirum and where to find it
As sustainability in fashion is further explored, the importance of alternatives to both animal-derived and fossil-fuel based leathers is becoming more commonly accepted. MIRUM is a new and innovative leather-like material that is entirely free from both animal and plastic inputs. So what's it made of, and what brands are using it?
The importance of moving beyond animal leather 
Before we can talk about leather alternatives, we need to look at why there's such a need for these alternative materials to begin with. When it comes to animal-derived leather, there are a myriad of ethical and environmental consequences of production worth evolving beyond. Some of these include the exploitation and slaughter of animals, deforestation and inefficient land use, biodiversity destruction, significant greenhouse gas emissions, tannery pollution and worker's rights issues across the supply chain.
Based on some industry data, calculations suggest a Brazilian leather handbag can result in as much as 1,000 square meters of once biodiverse land being kept clear for production, while other data shows a similarly sized cow skin leather bag to have a carbon equivalent footprint of over 100kg, and a water footprint of as much as over 17,100 liters. 
While leather – a valuable co-product of meat and dairy production – has been used for centuries and been relied on by humans in that time to make sturdy shoes, bags and other clothes, fashion is now evolving. 
The importance of moving beyond synthetic leather
While animal-derived leather isn't a sustainable fashion solution, the replacement of leather by virgin synthetic materials isn't ideal for the planet, either. While even polyurethane synthetic leather has a smaller carbon, water and land footprint, in some instances even requiring less chemistry and fossil fuel use, 'more sustainable' than leather doesn't make for a 'genuinely sustainable' material. Synthetic leather is still a plastic product derived from fossil fuels. We can do far better than that. 
Fossil fuel extraction is the leading cause of the climate crisis, and the synthetic materials produced from them can't naturally biodegrade, spelling trouble when shoes and bags made from the material are no longer wanted. 
It's because of these problems that material innovation is so important. Material Innovation Initiative's latest report found that since 2015, $2.3 billion has been invested in the next-gen material space, with the majority of this work going into replacing animal-derived and synthetic leather. In fact, 49 of the 74 companies in the next-gen material space are working on leather replacements. 
Partly bio-based alternatives are stepping stones to further innovation
At the moment, a number of more sustainable alternatives to both animal-derived leather and synthetic leather are still actually partly synthetic. For example 'cactus leather', 'pineapple leaf leather', 'apple leather', 'mango leather' and other colloquially named materials are actually only partly plant-based. Many of these materials are blended with synthetics – the plant matter dried out and made into a powder which is mixed with polyurethane, or in the case of Piñatex made from pineapple plant leaves (a ~95% plant-based material), coated in a thin layer of bio-resin, made from plasticised plant starch. 
These materials are more sustainable than both of the earlier mentioned materials, and also reduce fashion's reliance on fossil fuels – even if not eliminating it entirely. Essentially, they're a far better choice to pick from, move the needle in the right direction, but still have room to improve. They can be seen as stepping stones to the most ideal leather alternatives of the future. Materials, for example, like MIRUM. 
What is Mirum made of? 
MIRUM is an entirely new kind of leather-like material. Made entirely without plastic of any kind, MIRUM is certified to be made of 100% bio-content through the USDA's biopreferred program. MIRUM only ever uses natural materials that ensure recyclability at the end of the materials life as a bag, shoe or belt. 
Using abundant plant matter and 'upcycled' agricultural side streams rather than primary products (similar to how Piñatex uses pineapple plant leaves, rather than the fruits themselves), the material is efficient and renewable. 
The question of what's actually in MIRUM is complex, because it is so customisable. If a brand wants a slightly different texture, feel, thickness or color, MIRUM will be made accordingly, with slightly different inputs. 
For example, a bag made by Melina Bucher features supple black MIRUM, and is made from a blend of Forest Stewardship Certified natural rubber, natural colorants like charcoal from pine, natural fillers like clays, plant-based oils and waxes. Other 'ingredients' used in different iterations of the material include coconut husk fiber, cork powder made as a by-product of wine-stopper making, and rice hull. Another brand, Bellroy, says their custom formulation of MIRUM also includes soybeans, and is backed with organic cotton. 
These inputs are blended together during a mechanical process which forms a sheet, with the help of a patented plant-based curative. This is something MIRUM has over partly bio-based materials, which combine and set plant-based ingredients in a plastic-based or petrochemical substance. 
How sustainable is MIRUM?
While everything that makes up MIRUM sounds great, how do we know if it's really sustainable? Well, the company that makes the material, Natural Fiber Welding, recently released an intimate assessment of how the material impacts the climate when compared to animal-derived leather, synthetic leather and partly-bio-based leather. And the results are seriously attention-grabbing. 
MIRUM's first carbon footprint assessment found that producing one square meter of the material results in as little as 0.84kg of carbon equivalent emissions (CO2e), with the higher end of the estimate equating to 2.1kg of CO2e. That's equal to roughly the same amount of greenhouse gasses required to wash and dry one load of laundry!
To compare this with other similarly used materials, the assessment also shows one square meter to have a CO2e impact that's:
Nearly 14 times smaller than chrome-tanned leather from cradle to gate

Over 7.5 times smaller than synthetic leather's impact

Almost 4 times smaller than that of partly-bio-based PU leathers
While sustainability isn't only about carbon, and we need to consider water use, chemistry, land use, biodiversity and other impacts too, the climate impact of a material is extremely important, and these results have huge implications for the future of fashion. 
Too, given that we know MIRUM's inputs are natural, chemistry won't be a major problem with MIRUM, and when it comes to land use, the plant-based materials that are used to produce it are considered to be pretty efficient – especially as compared to animal-derived materials. 
When it comes to circularity – an important aspect of material sustainability which ensures reduced waste – MIRUM performs well too; the material is able to decompose into compost mulch. 
What brands are working with MIRUM? 
A handful of brands are working with MIRUM at the moment, with this number soon to expand, as the company has recently partnered with Veshin Factory, which ethically makes vegan bags for brands around the world. This partnership will allow greater accessibility to the material. 
Here are some of the brands working with the material right now:
The Bailey bag from Melina Bucher features both black and sand-toned MIRUM, in a sleek, timeless style paired with golden toned hardware. Ethically handcrafted in Spain, the brand is entirely vegan and dedicated to female leadership.
Certified B-Corp Bellroy was the first brand to release MIRUM commercially. Today, the brand offers a simple wallet, a sling bag, and will soon release another bag. They've also previously released now sold out phone cases, laptop sleeves and other products using the material.
Looking more broadly, Bellroy works with the Centre for Effective Altruism to support some not-for-profit projects, is transparent about the efforts to improve their sustainability, and works hard to be a positive place to work. The brand is based in Melbourne, Australia. 
An ethically made bag from a brand that participates in Fashion Revolution campaigns, Segan is working with MIRUM to create PETA certified vegan, fairly crafted and sustainable bags. The brand is also dedicated to genderless fashion and rejecting needless labels. 
Right now, you can only sign up to get updates from the brand, which will ship to the US and Canada. 
Another certified B Corp, Modher uses traditional techniques to craft fairly made bags. Having previously worked only with animal-derived leather, the Italian designed and made brand now offers a small crossbody bag made from MIRUM. It's exciting to see brands moving forward with materials like this.  
Camper is the first shoe brand to make sneakers with MIRUM, making the material more accessible. However, Good On You gives the brand a poor rating, citing their lack of commitment to ensuring living wages to their workers, and to reducing their overall environmental impact.
While it's great to see Camper supporting this important material innovation, they need to do far more to ensure they're living up to the promise of 'ethical' and 'sustainable' fashion which MIRUM aligns with. 
Under the name 'Plant Leather', Allbirds is working on a collection of MIRUM sneakers and shoes. Allbirds previously has only used wool and wood-based fibers in their shoe collections, making MIRUM an exciting edition to the collection. Allbirds is another brand that doesn't have a very good rating from Good On You, so check that out before making any decisions. 
---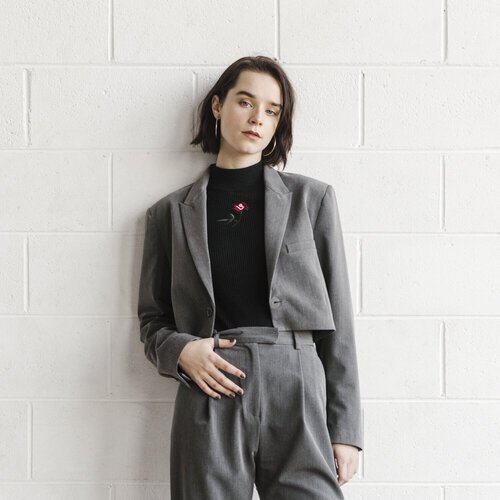 About the Author
Emma Håkansson is the founder and director of Collective Fashion Justice which seeks to create a total ethics fashion system that prioritizes the life and wellbeing of non-human & human animals, as well as the planet, before profit & production. She has written countless articles on ethics, sustainability, and fashion, and has two books due out over the next two years.
---
MAKE SURE TO PIN THE PHOTO BELOW TO SAVE THIS POST FOR LATER!
---
WANT MORE SUSTAINABLE BRANDS? VISIT OUR BRAND DIRECTORY!
Our Brand Directory is home to hundreds of sustainable brands, from makeup to cleaning supplies, from underwear to shoes. We have broken everything down by category for easy shopping, along with discount codes unique to Sustainably Chic viewers.
Shop the Sustainable Brand Directory
---
related reading you may also enjoy:
#Content-Attribution#
Content Creator: Eva Astoul
Date: