Pucker up for the Planet with these Sustainable Lip Balms
The Best Sustainable & Non-Toxic Lip Balms
An effective lip balm is a must-have in your arsenal of beauty and wellness products — we always like to keep one handy in our purses and dressers. But like most things, all lip balms are not created equal. Some contain nasty toxins like petroleum, many come in non-recyclable plastic tubes, and others just don't provide long-lasting moisturization. We don't know about you, but we're definitely tired of constantly having to apply a coat to dry, chapped lips, only to have to apply it again shortly after.  
So, we put together a list of twelve of our favorite planet-friendly lip balms that will keep your lips supple and moisturized for that perfect pucker. 
Note: Not all the lip balms in this list are vegan. Some products may contain beeswax — if they do, this has been clearly noted.
WHAT TO LOOK FOR WHEN CHOOSING A SUSTAINABLE LIP BALM:
Petroleum-free. Many brands (including Vaseline, Aquaphor, and Neutrogena) use petroleum jelly in their lip balms. Did you know that this petroleum jelly is literally a by-product of the oil refining industry? It doesn't get dirtier than that. Stay away from lip balms that contain petroleum jelly as it is a potentially toxic, carcinogenic chemical. 

Free of other nasties. On that note, also stay away from products that contain other toxins like parabens, chemical dyes, and synthetic fragrances and preservatives. 

Plant-based or cruelty-free. Opt for products using 100% plant-based ingredients where possible. For products that contain beeswax, you want to make sure it's organic and cruelty-free. 

Sustainable packaging. Can the container be reused, recycled, or composted? As always, go for plastic-free when that's an option. 

Certifications. Look out for third-party certifications like B-Corp, Leaping Bunny, ECOCERT, and USDA Organic that back up claims made by the brand. 

Worker welfare. Is the brand paying its workers a fair wage? Does it have stringent policies in place regarding ethical worker conditions? Fair Trade, FLOCERT, or SA8000 are good certifications to keep an eye out for. 

Diversity in leadership. Bonus points if the brand is BIPOC, LGBTQ+, or woman-owned! 
OUR TOP PICKS FOR SUSTAINABLE LIP BALMS:
Brand: Zambeezi
Price: $11 (for three)
Zambeezi's Lemongrass Lip Balm is another great cost-effective choice. The organic Fair Trade beeswax is produced in Zambia. The balm also contains organic coconut, sunflower, jojoba, and mongongo oils, making it ultra-healing. Plus, the organic lemongrass oil in the balm adds a wild gingery flavor which we love! 
Shop Zambeezi
---
Brand: Meow Meow Tweet 
Price: $14 
This creamy lip balm is made with olive and coconut oils, cocoa seed butter, and candelilla wax. You can also use it on your hands or other areas of your skin to prevent and repair dryness. The rosemary, eucalyptus, and peppermint oils in the balm help with concentration and focus and are also great for respiratory relief. Apply this balm on your lips (or under your nostrils for a boost) for a little aromatherapy pick-me-up! Bonus: It comes in a compostable tube. 
Shop Meow Meow Tweet
---
Brand: All Good
Price: $6.99 (pack of 3)
If you're looking for an effective, affordable option, this sunscreen lip balm from All Goods is a solid choice. It is broad-spectrum SPF 20 and provides blue light protection as well — your lips need protection from all that screen time too! The balm is free of parabens and oxybenzone and contains zinc oxide for UVA and UVB protection, making it reef-safe. The ultra-nourishing combination of extra virgin olive oil, Vitamin E, and pure beeswax results in long-lasting, much-needed moisturization for those dry, chapped lips. Bonus: The balm is effective on cracked skin and cuticles too. And the brand has all the certifications: Certified B Corporation, 1% for the Planet, Leaping Bunny Certified, and Climate Neutral Certified. This one's the real deal! 
Shop All Good
---
Brand: Cocokind
Price: $9
We're big fans of Cocokind's multipurpose Mymatcha All-Over Moisture Stick. Incredibly nourishing for dry lips, it's also super effective in reducing dark circles and puffiness. It's made of three simple ingredients: The organic coconut oil is packed with Vitamin E and amino acids, perfect for deep moisturization, the organic beeswax seals in the moisture by creating a protective barrier between your skin/lips and the environment, and the caffeine- and antioxidant-rich matcha powder is magically rejuvenating. 
Shop Cocokind
---
Brand: Axiology 
Price: $36 (for three)
A 3-in1 tinted stick for your lips, eyes, and cheeks? Count us in, please! Axiology's vegan and palm oil-free balmies are packed with a whole bunch of oils and butters that will condition and nourish your skin and lips and also provide antioxidant properties, including elderberry, hemp, plum, and neem oils. They're also plastic-free — wrapped in recycled paper and stored in a recyclable carrying case, they're a perfect zero-waste option. We love the nude plum, cherry, and caramel set. The warm tones are perfect for a natural, understated look and stay on for a long time. Plus, they're so convenient! 
Shop Axiology
---
Brand: Ethique 
Price: $8.50
The Nectar Unscented Lip Balm from Ethique checks all the boxes for an effective, basic lip balm. This no-fuss vegan balm is perfect for everyday use. It contains castor seed, moringa, and jojoba oils, as well as Fair Trade cocoa butter. Packed with fatty acids and Vitamin E, this hardcore combination of moisturizers hydrates your lips and locks it all in for long-lasting protection. And don't worry, the formulation isn't sticky at all and glides on super smoothly. Ethique sources its Fair Trade ingredients from Rwanda, Ghana, and Samoa, supporting local farming cooperatives (most of which are owned by women!). Finally, the lip balms are 100% plastic-free and come in a compostable tube (suitable for your home composts)
Shop Ethique
---
Brand: Fat and the Moon
Price: $8 
The lip salve from Fat and the Moon is super soft and light, making it ideal for sensitive lips. If you're looking to moisturize your lips but don't want that glossy finish, this one is perfect for you. It's made with all-natural, organic ingredients, including mango butter for protection, and rosemary essential oil for that fresh, clarifying feel. The balm comes in a cute aluminum tin which can be washed out and recycled after use. The shipping boxes and cartons are made from post-consumer waste paper & also recyclable.
Shop Fat & The Moon
---
Brand: Alpine Provisions
Price: $8
"Plastic-free and adventure-ready". Alpine Provisions' vegan lip balm speaks to the adventurer in us. It's made with organic and cruelty-free ingredients: The coconut oil prevents chapped lips by locking in moisture, the shea butter contains essential nutrients and EFAs that have anti-aging properties, and the tea tree essential oil helps with cracking and cold sores. The balm also contains peppermint oil — so you keep your breath fresh on that mountain hike with a quick roll-on!
Shop Alpine Provisions
---
Brand: River Organics 
Price: $12.99
We love this tinted lip balm from River Organics. The tint is very subtle and gives your lips a natural warm flush for the perfect 'no makeup' makeup look. It's made with nourishing cacao and mango butters, which keep your lips moisturized for a long time. The balm comes in an eco-friendly compostable tube. 
Shop River Organics
---
Brand: Elate 
Price: $24
If you're on the lookout for a tinted lip balm for everyday use, Elate's Better Balm is another great option. We like the Bloom tint one because of how subtle the sheer rose color is. The lightweight texture and glossy shine make it perfect for when you need a quick pick-me-up. The balm contains castor, olive, and sunflower oils for nourishment and antioxidants like carrot root oil, vitamins A, C, and E, and rosehip oil for protection against environmental pollutants. The conditioning balm comes in a recyclable glass jar with a compostable bamboo lid — we always love to see brands use zero-waste packaging! 
Shop Elate
---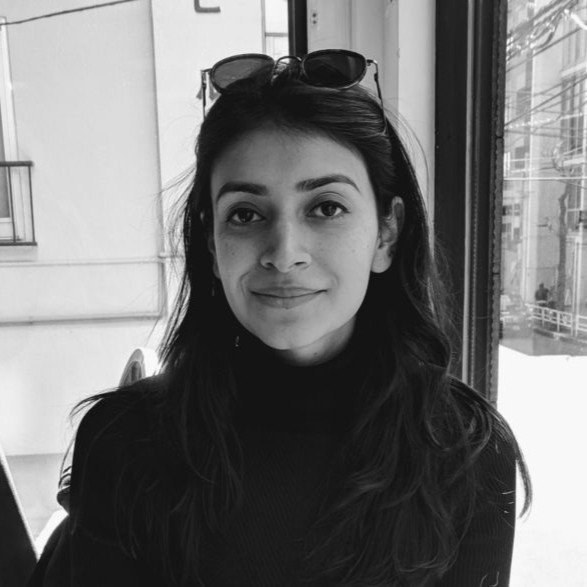 About the Author
Jyotika is a writer based in New Delhi. She writes about sustainable living and eco-friendly brands, covering fashion, food, travel, and wellness. Previously, she was the fashion manager at her family's bespoke fashion business, where in addition to her other responsibilities she worked on improving textile sourcing from local artisans to encourage grassroots production, as well as conducting sustainability workshops with employees regarding the eco-friendly disposal of fashion materials.
---
MAKE SURE TO PIN THE PHOTO BELOW TO SAVE THIS POST FOR LATER!
---
WANT MORE SUSTAINABLE BRANDS? VISIT OUR BRAND DIRECTORY!
Our Brand Directory is home to hundreds of sustainable brands, from makeup to cleaning supplies, from underwear to shoes. We have broken everything down by category for easy shopping, along with discount codes unique to Sustainably Chic viewers.
Shop the Sustainable Brand Directory
---
RELATED READING YOU MAY ALSO ENJOY:
---
#Content-Attribution#
Content Creator: Jyotika Bindra
Date: