The Best Sustainable Deodorants for You and the Planet
sustainable deodorant
With all sorts of claims that some deodorant ingredients cause breast cancer and other serious illness, problems like animal testing, non-recyclable packaging and ineffective ingredients, finding the right deodorant for you and the planet can be tough. Luckily, we've broken down what you need to look out for, and which deodorants we love most.
Does deodorant cause breast cancer or other diseases?
If you've ever read about the potential health impacts of deodorant and antiperspirant (the two are in fact different, as only the latter actually blocks sweat, the former just masks smell), you might feel quite alarmed by the supposed risks. A quick Google can tell you that your deodorant will give you breast cancer, Alzheimer's, kidney disease, and other frightening illnesses. But are these claims backed up by science?
Peer-reviewed, scientific sources tell us that in the case of breast cancer, Alzheimer's and kidney disease alike, even conventional deodorant use is likely not linked to the development of these diseases or that results are inconclusive. It is recognised that further research is needed in the area – so there's nothing stopping you from erring on the side of caution – but that with the studies done up until today, no clear, causal link is found. 
If you want to avoid the ingredients in question here, they are aluminum and parabens. Aluminum is the active ingredient in antiperspirants, as they create a temporary 'plug,' which stops the flow of sweat from sweat ducts to the surface of your skin. It's suggested that frequent application of aluminum-based products to the armpit (which is, of course, near to the breast) may be absorbed into the skin and have hormonal effects, leading to the growth of breast cancer cells. So the logic around potential links between aluminum and other diseases is the same – absorption is the risk. There is also some fear that temporarily blocking the ability to sweat means temporarily losing the ability to release toxins – but lymph nodes, which are not connected to sweat glands, are responsible for this. 
Similar concerns relate to parabens, which do have weak estrogen-like properties. But, again, there is no conclusive evidence that aluminum or parabens at the levels they exist in deodorant causes these diseases. Some people are concerned, though, that it is the build-up of aluminum and parabens across their skincare regime and diet that creates risk. This is particularly relevant for parabens, which are used widely in cosmetics, food, shampoo and skincare products. If you're worried, there's no harm in avoiding these ingredients when they are labeled on deodorant and other products. 
Is all deodorant vegan and cruelty-free?
When we talk about the deodorant that is best for us and the planet, we need to consider the other living beings here with us. Many deodorants are still tested on animals. Animal testing of deodorant isn't simply putting some roll-on in the underarm of a rabbit, but smearing the ingredients and chemicals used in deodorants onto their shaved bare skin, and into their eyes.
Perhaps the most upsetting form of animal testing is the acute oral toxicity test, where rats are forced to swallow a substance until they become incredibly sick and ultimately die. The purpose of this test is to see how long it takes for half of the exposed animals to die within 14 days of swallowing the substance. Unfortunately, this is all too common in the personal hygiene and cosmetics industry.
What's more, not all deodorant is vegan. Some deodorant contains gelatin – made from boiled animal skin, tendons and bones, while others may contain beeswax, animal-derived glycerine made of animal fat (vegan glycerine from vegetable oil fortunately exists too), and other unappealing and cruel ingredients. 
For those wanting to avoid supporting all of the above mentioned cruelty to animals, there are a huge range of vegan and animal-testing free certified deodorants available. 
How does deodorant packaging impact the planet?
It's estimated that 120 billion units of cosmetic packaging is produced every year. Unfortunately, a large amount of this packaging is not able to be recycled, ending up in landfill, or if not properly disposed of, the ocean.
The health of the planet and our personal health are completely intertwined. While personal hygiene, skincare and makeup companies must take responsibility for the impact of their products and use more sustainable and even reusable packaging, we have a part to play, too.
Today, there are deodorant brands that sell refillable roll-ons, which use glass packaging that is more valuable in recycling systems, and even compostable packaging. These are great options to choose.
For a topic as simple as deodorant, a lot of concerning points have been raised here! Luckily, it's not so hard to avoid all of these concerns, while staying fresh as a daisy. Here are some of our favourite natural, aluminium and paraben free, vegan, animal-testing free, and sustainably packaged deodorants – they sure tick a lot of boxes!
Our favorite effective and safe deodorants:
Making the self proclaimed 'most advanced natural deodorant ever', Humankind offers sleek refillable containers full of delicious scents like rosemary and mint, lemongrass, as well as lavender and citrus. This formula is ethically made without aluminium or paraben, as well as any kind of animal cruelty. This one wins points for strong aesthetics that match the internal goodness of the product.
Shop by humankind
---
Another refillable deodorant where refills are sent to your door, this one comes in a metal case (that can be recycled, though the point is to keep using it for the rest of your life!), with refills that are packed in compostable material. As for the 'no nasties' deodorant itself, it's been rigorously tried, tested and customer approved, so you know you won't need to worry about your fragrance.
Shop Wild
---
This deodorant cream, which you rub in your hands before melting it into your pits, is packaged in ocean waste recovered plastic. While this one isn't refillable, using ocean waste plastic rather than virgin plastic reduces carbon emissions, helps protect marine life, and is 100% recyclable. As with all of the others, this one is also vegan, cruelty-free, and free from ingredients that may cause you concern.
Shop PiperWai
---
In gorgeous scents like coconut and vanilla, cucumber and mint, aloe and green tea, as well as an unscented option, this brand offers an effective and completely plastic-free deodorant. With paperboard packaging, vegan and animal-testing free assurance, this deodorant works a charm to keep you smelling good with thanks to coconut oil for smoothness, baking soda, shea butter, tapioca starch and other recognizable ingredients.
Shop Native
---
The cheapest option, this all natural anti odorant comes in a recyclable metal tin, and just a little goes a long way. This aluminium and paraben free, animal friendly formula keeps you fresh for 'up to 12 hours', and is available in both fragrance free and scented options.
Shop No Pong
---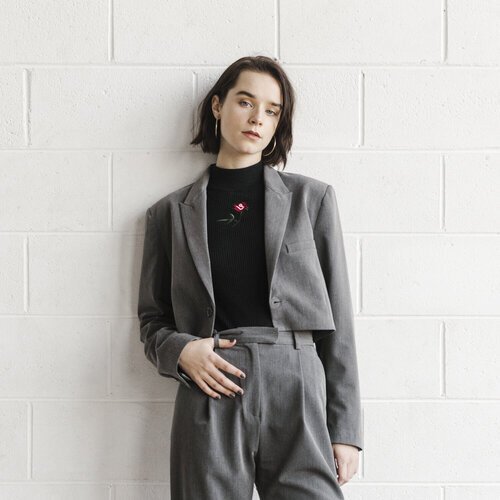 About the Author
Emma Håkansson is the founder and director of Collective Fashion Justice which seeks to create a total ethics fashion system that prioritizes the life and wellbeing of non-human & human animals, as well as the planet, before profit & production. She has written countless articles on ethics, sustainability, and fashion, and has two books due out over the next two years.
---
MAKE SURE TO PIN THE PHOTO BELOW TO SAVE THIS POST FOR LATER!
---
WANT MORE SUSTAINABLE BRANDS? VISIT OUR BRAND DIRECTORY!
Our Brand Directory is home to hundreds of sustainable brands, from makeup to cleaning supplies, from underwear to shoes. We have broken everything down by category for easy shopping, along with discount codes unique to Sustainably Chic viewers.
Shop the Sustainable Brand Directory
---
RELATED READING YOU MAY ALSO ENJOY:
---
#Content-Attribution#
Content Creator: Emma Håkansson
Date: